Health Care · Education · Welfare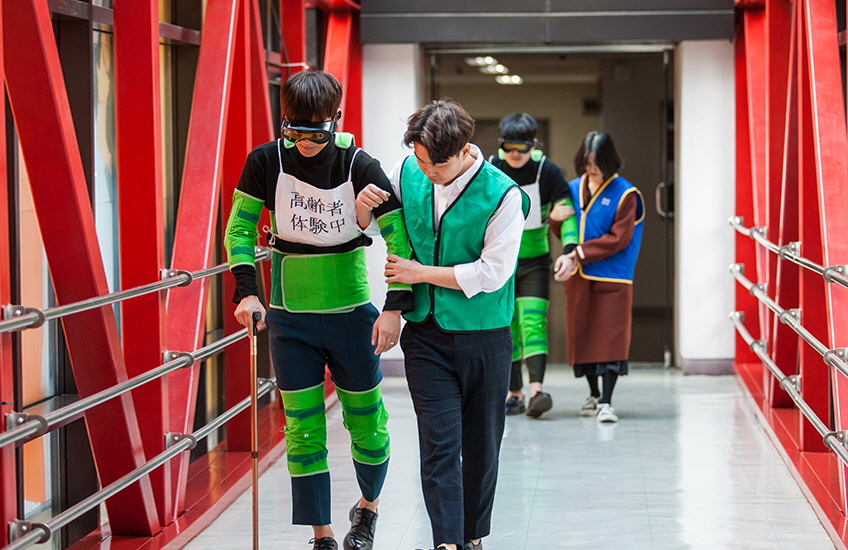 Vision & Objectives
Vision

Cultivating a luxury worker with humanity and practical skills

Objectives

Training social workers to create future welfare based on personality and professionalism
The course of luck is in the Social Welfare Section! Train quality social workers
Based on human-centered philosophy, various social issues derived from the process of establishing industrial society can be solved and prevented at the personal level and social structure level through practical methods for the realization of social welfare, It is aimed at cultivating the social worker who builds society where there is a society.
Social welfare departments should emit specialists who can meet various needs in order to deepen social problems and meet the needs of the people. Therefore, in order to meet the need for social welfare in general, the university cultivates high-quality social workers through fieldwork, volunteer work, and on-the-job training. Especially, through care practice for the elderly and the disabled, we try to take pride as an expert in the field that students want.
It is necessary to cultivate the value, expertise and expertise required for the social workers who will lead the 21st century welfare society, and to acquire the skill of care due to the low birth rate and aging society and the increase of social advancement of people with disabilities
History
Year
History
2014
- The 14th graduation (social worker, childcare teacher, caregiver issue)
2013
- The 13th graduation (social worker, childcare teacher, caregiver issue)
2012
- The 12th graduation (social worker, childcare teacher, caregiver issue)
2008
- March establishment of Woosong College affiliated care worker educational institute
- National evaluation of social welfare departments
2005
- Healthy family support department open
- The 5th graduation (Korea's first healthy family supporter license issue)
- (Social worker, childcare teacher, caregiver, healthy family supporter issue)
2004
- July 17th Ministry of Education, Acknowledgement, and Resources regional college innovation empowerment (NURI) selection
20001
- The 1st graduation (social worker issue, selective issue between childcare teacher and caregiver)
1998
- Social welfare department open
1954
- April 17th Woosong school approval
---
Career Pathway
Social welfare
Social welfare guidance
Life Instructor
Social welfare field Manager
Director of social welfare
Social Welfare Field Team Leader
Social Welfare Site Manager
Nursery
Child care Teacher (support)
Child Care Teacher
Assistant Director
Director
Year
3
5
9
12
15
20
---
Department Specialization
Acquired majors qualification
Social Worker Level 2
Childcare teacher level 2
Caregiver
Establishment of other accredited private certification courses.
Strengthening practical skills
Strengthening theory and practice classes
Experience-based training through Educational-industrial cooperation
Domestic and Overseas Field Practice
Overseas Institution Training
Humanity education
Volunteer mileage system
Volunteer club activity
Personality education and psychological counseling
---
Employment after Graduation
Social Welfare Section CAREER
Social Welfare
Social welfare centers, elderly facilities, welfare facilities for the disabled, long-term care institutions, social welfare institutions and organizations, social service centers, and psychiatric nursing homes. If you pass the "Social Welfare Special Public Officials" examination, you can get employment in the city, county or ward or the Dong-myeon labor office that is in charge of the National Basic Livelihood Guarantee.
Nursery
Child-related institutions and facilities, childcare-related institutions and facilities
---
Certificates
National Certificate: Social Worker (2nd grade)
National Certificate: First-aid
National Certificate: Childcare Teacher Level 2