Railroad · Architecture · Fire Safety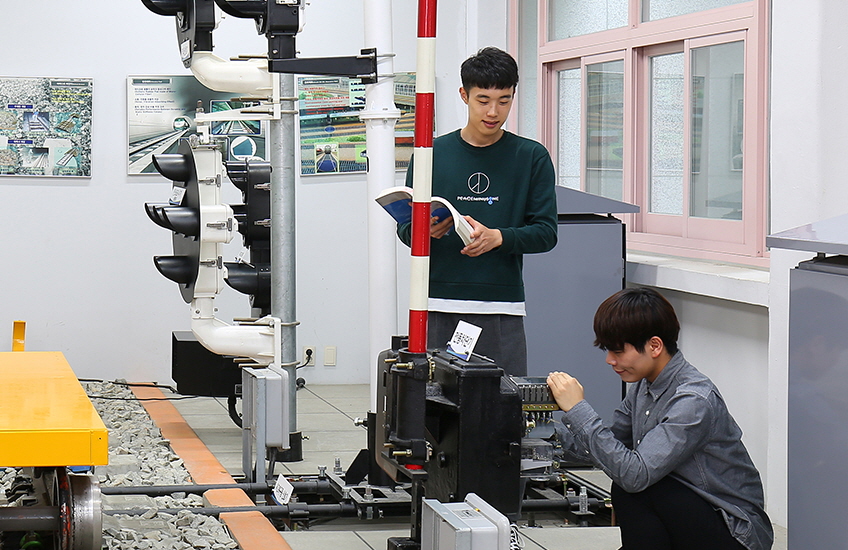 Vision & Objectives
Vision

Train railway construction experts leading the transportation

Objectives

Train technical personnel and railway engineers who have the theory and practice of railway construction
Introduction to railway engineering
Railway civil engineering is a study of railway which plays a leading role in social infrastructure and modern transportation culture to preserve and develop the natural environment given to mankind and provide maximum convenience to human civilization.
The railway civil engineering department plans, researches, designs, constructs, and supervises the development of the land including roads, railways, subways, bridges, tunnels, rivers, harbors, airports, dams, power plants, waterworks and sewerage. This course is to learn theory, experiment and practice of major subjects to contribute to nature-friendly landscape formation.
Woosong College has excellent faculty members and advanced educational equipment. It provides perfect professional training. In addition, there are over 5,000 alumni nationwide who lead this field in 48 years of tradition and history.
Railway engineering and history
April 17, 1954: Established Donga Academy
January 18, 1963: Agricultural Engineering Department (Daejeon Agricultural High School)
December 16, 1970: Changed to the civil engineering department (Daejeon Technical College)
April 01, 2004: Change to railway / civil engineering
March 1, 2007: Change to the Civil Engineering Department
March 1, 2008: Change to Railway Construction Division
March 01, 2009: Change to the civil engineering department
March 1, 2010: Change to the railway engineering department
---
Career Pathway
Construction, design
engineer, Design
Team Leader, Chief Designer
Site Manager, Designer
Civil engineering manager
Measurement
Inspector
Supervisor
Manager
Director
Year
3
6
10
15
---
Department Specialization
Railway specialization of the era
Acquire certificate of engineering from training course of trainee engineer while attending school
After graduation, work for a railway company, subway, and others
Industry of railway
Characterization through industry-specific customization
Small and Medium Business Administration-sponsored educational-industrial cooperation customized project (2013 ~ 2015)
Employment through agreement with Korea Professional Construction Association
Employment agreement by educational-industrial cooperation with SME
2013: 10 companies
2014 to 2015: More than 20 people scheduled for six companies each year
Overseas employment through strengthening international communication
Strengthen English programs for the construction industry
Employment through contract with overseas construction company
Overseas corporation construction company
---
Employment after Graduation
Railway civil servant
Ministry of Land, Transport and Maritime Affairs, Metropolitan City,
Government-owned enterprise
Land Housing Corporation, Rural Community Corporation, Housing Corporation, Water Resources Corporation, Road Corporation, Railroad Corporation, Railway Facilities Corporation
Construction company
Hyundai E & C, Samsung Engineering, Daelim Industrial, GS E & C, SK E & C, Kyeryong E & C, Daewoo E & C, Jinsoong Swan E & C, Doosan E & C
Engineering company
Design and Supervision field: Korea Technology Development Corporation, Dohwa General Design Corporation, Yushin Design, Kyungdong Development, Ji-sung ENG Co., Ltd.
Construction
Korea Construction Quality Laboratory, Doh Ji, Yoon Sung ENG, etc.
Transfer to 4 year college as 3rd grade
Chungnam National University, Hanbat National University, Kongju National University, and others
Enter into all fields of other construction and railway
---
Certificates
Related certifications
Industrial engineer, industrial transportation engineer, concrete engineer, railway engineer, industrial intellectual engineer, construction safety engineer