Railroad · Architecture · Fire Safety
Department of Remodeling Architecture
Office: Study Information Center(E3) 901
Tel: +82-42-629-9940
Hompage
Contact Us
Vision & Objectives
Vision

Realization of professional education of 21st century's creative architectural remodeling

Objectives

Cultivate 21st century's creative experts in architecture and remodeling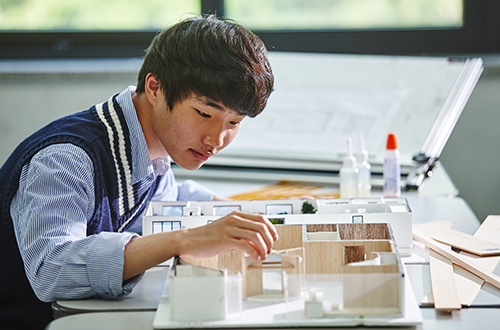 The leading role of space creation that challenges the remodeling market size of 10 trillion won Training of remodeling architects (architecture and interior)
If you have dreams to make monumental buildings that will remain in history forever, and want to become a top architectural and interior expert recognized in the field, come to the Remodeling Architecture Department of Woosong College!
The Remodeling Architecture Department nurtures professional engineers who will lead the creation of space of the 21st century.
Educational Objectives
Remodeling is an architectural technique to remodel the interior and exterior of a building with a modern sense and practicality.
Registered as a construction engineer (Korea Construction & Engineering Association)
Registered as an engineer at the same time as graduating from the industrial engineer (same as a 4-year college graduate)
---
Career Pathway
Beginner
Intermediate
Advanced
Expert

Junior engineer in interior design
Architecture Junior Supervisor

Intermediate Engineer in Interior Design
Construction Intermediate Supervisor
Intermediate Engineer

Advanced Engineer in Interior Design
Architectural Supervisor
Advanced Structural Engineer

Interior design engineer
Construction Supervisor
Architectural Structural Design Specialized Technician

Year
5
15
20
25
---
Department Specialization
Since its establishment in 1970 as Chung Kyung College of Engineering, it has produced about 5,000 graduates. The future of architectural environment will be developed with high growth potential and future-oriented field. Remodeling project, which has a market size of 9 trillion won, is a creative design and new construction to meet the given purpose and function of the building.
Therefore, in this department, in order to nurture the experts of building remodeling that can design and construct the interior space of the building for various purposes as well as the exterior design of the building according to various uses of the building, we focus on practical training courses to train specialists who can perform various remodeling projects in the field.
---
Employment after Graduation
Field of Entry
Registered as a beginner engineer of Korea Construction & Construction Association (Same as a 4-year college graduate)
Government-owned enterprises such as city hall, industrial complex, and corporation
Construction Company
Interior Design Office
Design Office
Remodeling companies
Civil servant
Transfer to 4-year colleges
---
Certificates
Authorized architect and builder
Establishment of a qualification system by allowing engineering personnel with engineering knowledge and skills from the planning and design of the building to construction to carry out the construction work
Interior architecture industry engineering
The interior space should pursue not only the functional condition but also the satisfaction of human artistic and emotional desires. The interior space planning field of the interior space is based on the understanding of the environment and the architectural understanding, knowledge and skills to perform tasks are required. Accordingly, we want to cultivate the manpower needed in the field of architectural design.