Machinery · Computer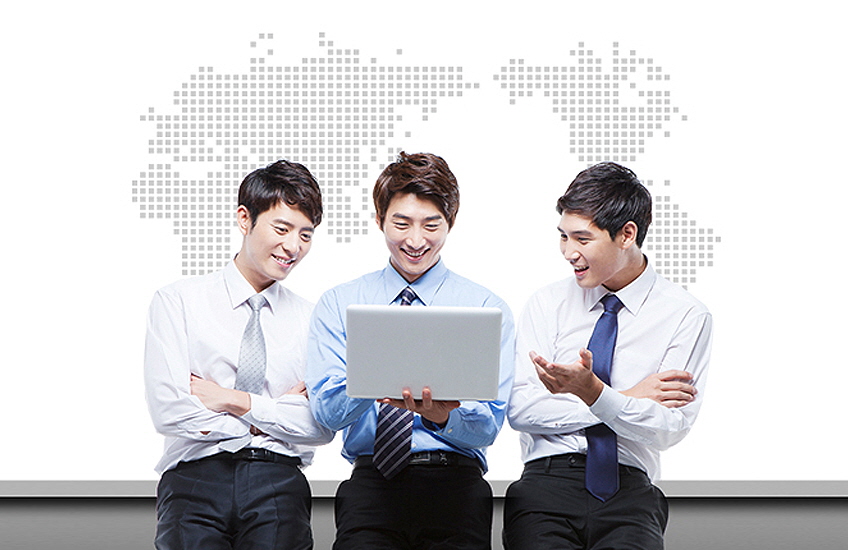 Vision & Objectives
Vision

Nurturing IT talents leading the information age

Objectives

To cultivate talent with passion and innovative ideas to lead the future of advanced IT industry
Computer Information
National competency standards (NCS) are the systematization of the contents of knowledge and technology required to perform tasks in the industrial field by the level of the industry sector and standardization at the national level . The Computer Information Department nurtures talented people with on-site job skills through such NCS-based curriculum.
The type of manpower training in the computer information department of Woosong College is set as information system operation and security professional manpower.
EOD course (POSCO ICT class)

It aims to nurture specialists such as program development, maintenance and information system operation, which are core personnel in the ICT industry.
By fostering ICT talents suitable for large-sized companies by providing excellent workplace skills required by companies in connection with the POSCO Lee CT Cooperative Partners Association Council, which is a member of the best companies,
POSCO ICT Cooperation Partner Companies Association ATOS, Going Com, Hub Biz ICT, Saerom C & C, New HiTech, NewWinec Neodesis, Suubuntec, Going Com, Ju Plus One, Daewoong Information Communication, SAIS
---
Career Pathway
UI Developer
Security practitioner
Network Operations Manager
Hardware Operations Manager

Application SW Practical Developer
Security Officer
Application SW Operational Director

Application SW Practical Developer
Security manager
System Operation Integration Manager
DB Operations Manager

Application SW Integration Developer
Security Officer
IT System Resource Manager
IT business establishment

Year
2
3~5
6~9
10~
---
Department Specialization

Characteristics of differentiated computer information
The computer information department develops and operates curriculum according to the NCS-based IT manpower development goal of national job standard.
Operation of Information System · The goal is to nurture professional experts who are dedicated to specialized tasks with the aim of nurturing security experts.
Aimed at 100% employment by providing the education environment environmentally improved, accepting the rapid change demands of the industry based on the theoretical and practical faculty and industry faculty, and providing individualized and specialized education services to each student. Practice practical training.
Establish an industry-academy consortium in cooperation with major industries related to the major. Through this, we strengthened on-the-job training and reflected the technology required in the field. Through one education, we cultivate professional manpower by field and connect with employment.
Overview of specialization of department
Customized education based on NCS of computer majors due to the advancement of industrial structure is indispensable, and it is required to characterize computer information department according to educational environment changes. Therefore, we will seek change that can contribute to the characterization of the university and lead it.
Fundamentally supporting basic learning skills, acquiring one-on-one certification, activating venture clubs, and expanding practical experience through various contests.
We aim to strengthen internship on-the-job training in connection with employment and to achieve 100% employment in accordance with the intention of the department to train NCS-based fieldwork ability.
Operate an EOD course in cooperation with POSCO ICT partner companies to provide customized education suitable for large companies.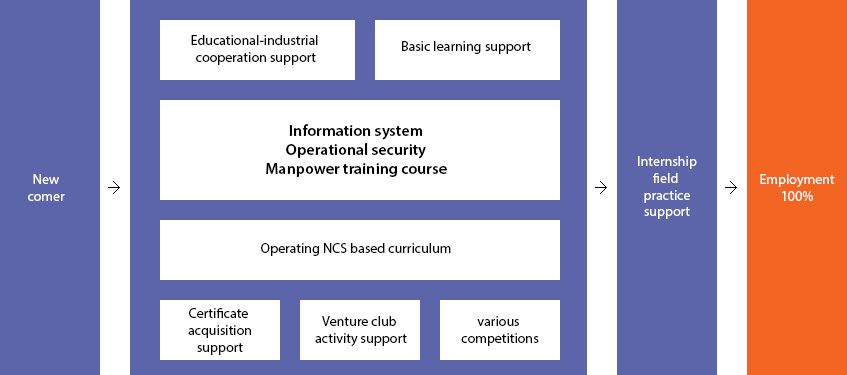 ---
Employment after Graduation
POSCO ICT Cooperation Partner Council and related excellent partners
Excellent partner company of Daedeok Innopolis Venture Association
SK Broadband / Samsung Electronics / LG Electronics / Hynix / KTF
Web content production service field, web master, web design, web programmer, computer graphic related companies
Multimedia production company, Internet shopping mall construction and management, ISP / public institution computer room, practical training teacher
National public research institutes, IT · BT related industry, medical industry, defense and defense industry
Establishment of company affiliated research institute, general hospital research institute, venture business establishment of other IT field, etc.
Transfer to Seoul National University of Technology, Chungnam National University, Hanbat National University, Hannam University, and Woosong University
---
Certificates
National Certifications
Information processing industry Engineer, office information device application industry Engineer, electronic calculator application industry Engineer, information communication industry Engineer, multimedia contents production expert, computer graphics operation specialist,
Private certification
Linux Master, Wireless Internet Manager, Network Administrator, Webmaster Specialist, Internet Information Retriever, E-Commerce Manager, National Certified Certificate, Colorist
International Certification
Cisco Certified Network Associate (CCNA), MCSE, SCIP, OCP, etc.
---
Educational-industrial Cooperation
Educational-industrial Cooperation Association
POSCO ICT Cooperation Partner Council, Daedeok Innopolis Venture Association, IT Promotion Association
Educational-industrial cooperation contractors
Inseong Information Corp., Hutun Corp., Korea Alpha System, Altwo Soft, Mayeye, SK Telecom, SK Broadband, West Network HQ, Blue Wave Tel, Fiberpia, Jiranjigyo Soft, On Makers, Plan I Corp., Wever Creative Art, Daeseon Telecom, Juwon Communications, Hanaro Tel & Tech, Power Net, GT Com, ITS Central, Wedustech, Good and Telecom, Miraeon, HSPN, Bibabies Net, Jistech, IT Korea, Niks Technology, Soft ITech, Bizmerce, Meta Biz, KM Net, SK Network Service, Atos, Saerom C&C, Going Com, Newin Tech, HuBiz ICT, NeoDS, Suburn Tech, New high-tech, Jeus C&C, Dawoong CNS, I Cam Net, SIS, IT Sen Systems, E-posting, I Zone Science Research Institute, Shinsege Development, DK Educamp, Viral Fit, East Photonics