Health Care · Education · Welfare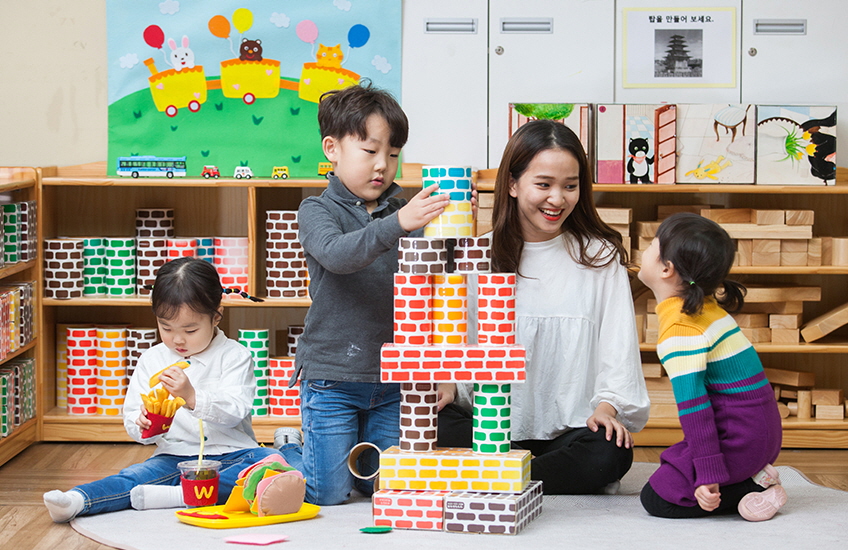 Vision & Objectives
Vision

Training day care professionals to nurture infants' dreams and happiness

Objectives

Training nursery specialists with specialist abilities to care for infants and toddlers
Raising the happiness and dreams of infants and toddlers A nursery expert's home! Childcare Child Welfare Division of friendship
In order to provide high-quality childcare services to infants and toddlers, which is a crucial period of development, the competent childcare teacher with knowledge and skills are required.
The School of Child Welfare and Child Welfare of Woosong College has strengthened the practice of child care field and constructed a curriculum to fully acquire the roles and qualities of the teachers who are required in the field. By strengthening the personality education which is one of the most important virtues of teachers
Through the two-year course, students will be able to acquire first aid qualifications in case of an emergency that may happen to infants and young children staying in a nursing home for a long time in addition to the qualification of a childcare teacher and a special teacher. We will also be able to acquire a wide range of qualifications, so that we can produce a wide range of competent childcare professionals.
---
Career Pathway
| | | | |
| --- | --- | --- | --- |
| | | | |
| Nursery | Child Care Teacher Level 2 | Nursery teacher first grade | Head of Facility |
| | | | |
| Social welfare | Social Worker Level 2 | Social Worker Level 1 | Head of Facility |
| | | | |
| Year | | 3 | 4~6 |
---
Department Specialization
Nurture competent childcare professionals responsible for childcare
Acquired majors qualification

Childcare teacher level 2
Certified private qualification (first aid, baby massage, fairy tale, paper craft,

Strengthen practical training

Strengthening child care field practice (more than 260 hours field trip)
Nursery teacher training
Overseas Institution Training

Strengthen personal education

Personality education and counseling
Major related volunteer activities
---
Employment after Graduation
Nursery schools (public, corporate, workplace, private, home childcare facilities) Childcare teachers and facilities
Welfare facility childcare person (child welfare facility, community welfare center)
Infant education related companies
Transfer to a four-year university
---
Certificates
National qualifications: Childcare teacher level 2
Selection Qualification: Origami leader, storyteller, book play leader, ukulele leader, balloon art leader, POP