Hotel · Catering · Cooking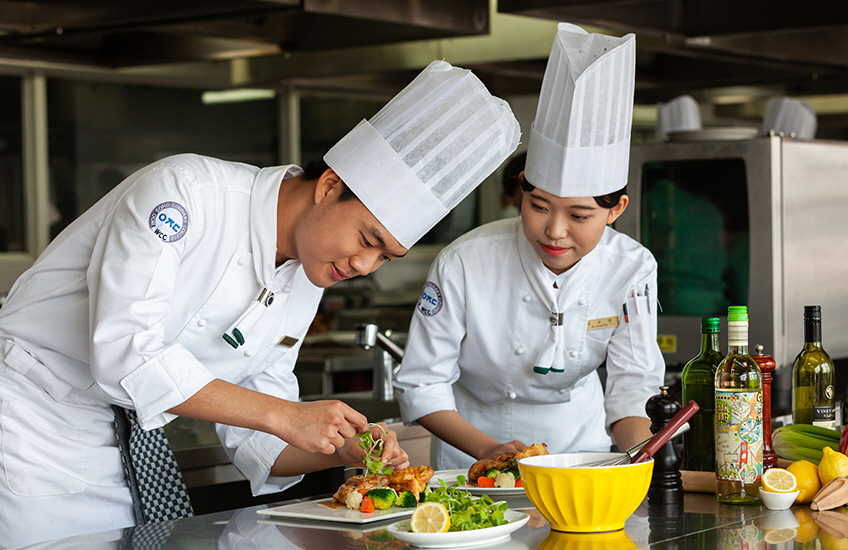 Vision & Objectives
Vision

Cultivate food and restaurant experts, leading food culture

Objectives

Train cooks who are responsible for the health of the people and leading the world's food culture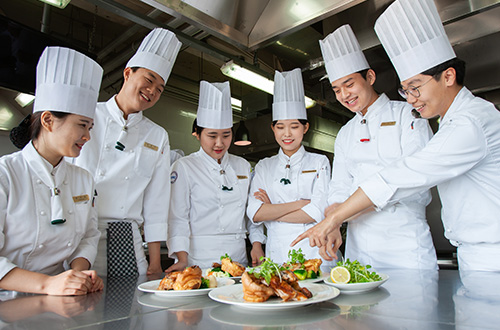 Cultivate global re staurant cooks with expertise, skills and creativity for the food culture of the world
This division has the only block style practice curriculum in Korea. It has an effective curriculum that can develop professional skills and knowledge in the cooking field so that 21st century's dining-out industry can be led with cutting-edge training room and lecture system.
The curriculum is based on theoretical courses such as Food Science, Cooking Principles, Nutrition, Food Hygiene, and Cost Management for basic knowledge on food, and includes cooking basic skills, hot food, cold food, Korean food, Chinese food, , The systematic step-by-step block learning from the basics to the specialized cooking techniques.
Educational Objectives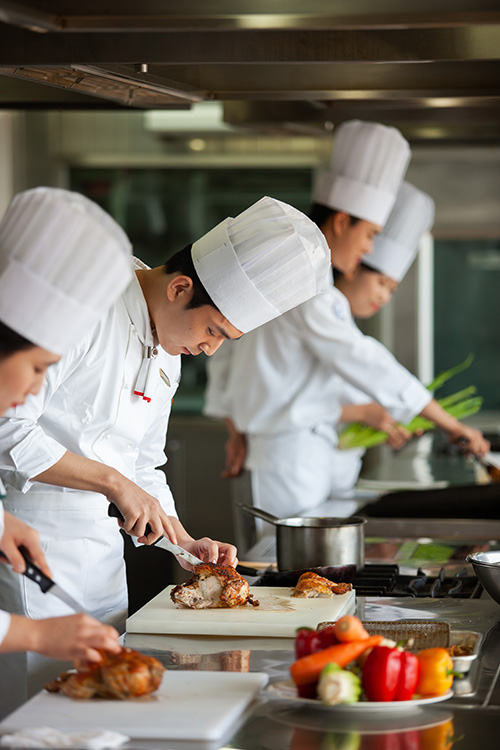 The history of mankind has been developed through the process of overcoming nature through the essential activities for the survival of 'Food, Clothing, and House'. Especially, the issue of 'Food' has had the greatest impact on the survival of mankind, and it is importance that it is gradually increasing. This is why future national competitiveness is in food resources. In that sense, Cook should be trained to be faithful to his social role based on his cooking skills.
First, a person with a personality - dealing with food is dealing with life. It is very important for the person who prepares the food. Become cook with such a sense of mission and right personality.
Second, a cooker with a basic skill - The basis for enhancing the possibility of development as a professional cook should be based on a robust basic skill. Become professional cook who is faithful to basic.
Third, a friendly cook - Become a professional cook with a craftsmanship focusing on patience and sincerity, rather than being a winner who wants to just achieve the goal quickly.
Fourth, cook cannot do everything alone because of the nature of cooking, which is a consideration for others. Become a respected cook who knows how to care for others for the success of the individual rather than the success of the individual in a competitive world.
Fifth, Be a cook with humanity - not just a productive functional person who produces food, but a cook who has a mindset of serving people, nature, and environment.
---
Career Pathway
| | | | | | | | |
| --- | --- | --- | --- | --- | --- | --- | --- |
| | | | | | | | |
| | Assistant | In charge of Side dish of production line | In charge of main menu of production line | Middle man between a cook and a chef | Manager of the entire cooking department | Chef | |
| | | | | | | | |
| Year | | 2 | 5 | 7 | 9 | 10 | 13 |
---
Department Specialization
Block style cooking training
Block style cooking education
High-tech laboratory classroom
On-campus restaurant field practice
On-the-job training program.
Certification
Acquire private certification
Advanced major club training
Customized employment system
Customized employment counseling training
Mentor group management
Alumni association employment network
Lecture of famous industry chef
Industrial field trip class
Preparation of employment portfolio
Global Talent Education
Global overseas internship dispatch
Expansion of overseas employment opportunities
Overseas food culture training
Foreign Language Strengthening Program
---
Employment after Graduation
Cultivating manpower in accordance with development of food service industry
In recent years, there have been many changes in the dietary life as well as changes in socioeconomic environment. Dual income and women's social advancement led to the development of eating out culture. Also, the proportion of various western foods such as bread and pasta is gradually increasing.
It is expected that the proportion of eating out culture will gradually increase in our life from now on. In the end, the development of the food service industry is demanding a lot of specialized workforce, and the cooking service department, which is building a specialized and efficient education environment that can adapt to change, will continue to be a field-based curriculum that will enable the education system and systematic education. Excellent professional staffs lead the restaurant industry through specialized and globalized faculty members.
Career after graduation
Hotel and restaurant caterers, franchise caterers, catering companies, catering institutes, culinary specialists, institutional lecturers, culinary institutes, cultural centers, Women's Welfare Center, Corporate Cooking Class Instructor, transfer and study abroad of four-year university and overseas internship
---
Certificates
Korean Cook Technician, Western Cook Technician, Japanese Cook Technician, Chinese Cook Technician, Blowfish Cooking Technician
Prepare food to be provided for Korean, Chinese, Japanese, Western, and blowfish dishes. Select, buy and inspect the ingredients to be cooked, and prepare food using proper cooking utensils. Nurture professional staff to prepare and provide food while hygienically managing and maintaining cooking facilities and utensils, purchasing the necessary materials, sanitary and nutritionally storing and managing them.
Baking technician, confectioner
Establishment of a qualification system to cultivate professional manpower capable of carrying out duties related to pastry and desserts with skill in baking and confectionery.
Cooking industrial engineer (Korean, Western, Chinese, Japanese, Blowfish)
We newly added cooking industrial engineer qualification which evaluates skill and management ability of middle management. The cooking industry manager plays a role to manage the cooking work efficiently in the cooking industry related organizations such as the food service companies.
Eligibility
Specialist (including other industrial engineer, other qualifications) + more than 1 year of practice
Those who are qualified for the same field
Those completed two-year or three-year graduation
4 year college graduate (non-major)
3 year graduate (non-major) + 6 months practice
2 year graduate (non-major) + 1 year or more
2 years or more of work experience
Functional Cook (Western style, Chinese food, Japanese food, blowfish)
With the highest level of skill related to cooking, it is possible to cultivate manpower to perform tasks such as job management in the industrial field, guidance and supervision of the member, on-site training, and on-site management.
Eligibility
Industrial engineer (including other qualifications) + 5+ years of experience
Specialist (including other qualifications) + 7+ years of experience
Work experience over 9 years
Qualification of areas in same and/or similar fields
Those who have obtained the same qualification in a foreign country
* In addition, there are coffee barista certificate, child food cooking certificate, wine sommelier certificate, traditional bottle medicine certificate
---
Educational-industrial Cooperation
No.
Company name
(Postal code) Address
Representative
1
ROSSO Co., Ltd.
153 Bank of Daejeon, Jung-gu
Lim Young Jin
2
Haevichi Hotel Co., Ltd. & resort
40-69 Posun-ri, Posun-myeon, Seogwipo-si, Jeju
Jang Deok Sang
3
Hotel Rolling Hills Co., Ltd.
4-21 Hwalcho-dong, Hwasung-si, Gyeonggi-do
Ahn Seok Chan
4
Ritz Carlton Half Moon Bay
One Miramontes Point Road
Half Moon Bay, CA, USA 94019
Salomon
5
Hyatt Hill Conutry
9800 Hyatt Resort Drive,
San Antonio, TX, USA 78251
Troy
Knapp
6
World Center Marriott Orlando
8701 world Center Drive, Orlando,
FL, USA 32821
Greg
Picard
7
Renaissance Eden Roc
4525 Collins Ave Miami Beach,
FL, USA 33140
Thorsten
Leighty
8
Plaza Hotel Hanhwa Hotel & Resort
23, Taepyungno 2-ga, Jung-gu, Seoul
Hong Won Ki
9
Seoul Garden Best Western Premier Seoul Garden Hotel
Seoul Garden Hotel 169-1 Hadong-Mapo-gu, Seoul
Lee Il Gyu
10
Ritz Carlton
Seoul 602 Yeoksam-dong, Gangnam-gu
Meng Mu Seup
11
JW Marriott Hotel
219-3 Banpo-dong, Seocho-gu, Seoul
Lee Dong Ju