Beauty · Design · Art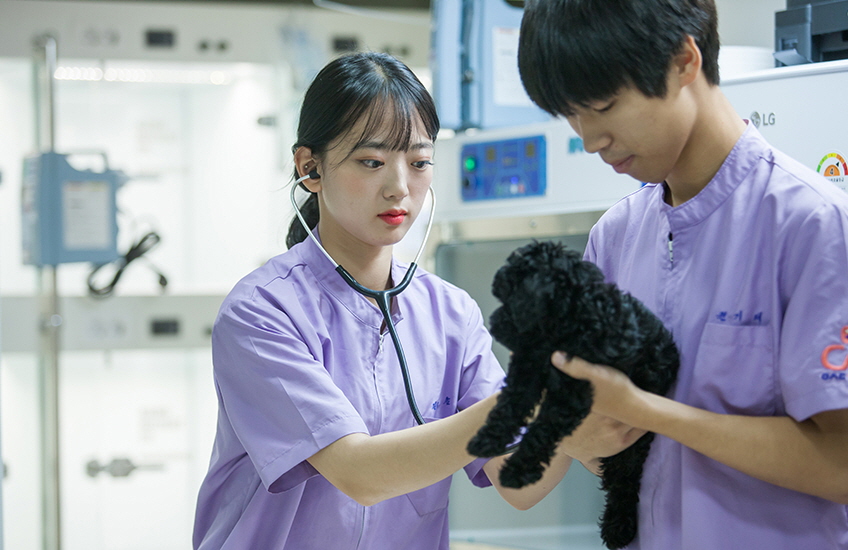 Vision & Objectives
Vision

Training domestic luxury animal experts

Objectives

Animal specialist with expertise in animal care, pet beauty, pet medical specialty
Introduction
The changes in family structure, such as the nuclear family and the increase in the elderly population, and the improvement in quality of life have increased the demand for pets, and the pet industry is rapidly developing every year. We teach pet medicine major, pet beauty major, and animal care major in order to train pet expert who treats animals with love, places importance on the dignity of life and has professional knowledge and ability.
Characteristics and Vision
This faculty is a faculty with over 50 years of tradition. The group 5F of the latest facility, the pet academy hall, and the dormitory for pets are all equipped. These facilities educate you on the expertise and practical skills you need to work in the pet industry. The education is separated into the undergraduate pet medical care major, pet beauty major and animal care major in the undergraduate school. In addition, we offer specialized training in the practice room of the pet department to provide training programs to connect with post-graduate employment.
Major Introduction
Major In Pet Medical

The Pet Care Medical Major is a veterinary medical nurse who has the expertise and practical abilities in the field of veterinary clinic. It is equipped with the basic pet care technology

Pet Grooming Major

The Department of Beauty and Cosmetology aims to educate global pet hairdressers who have advanced theoretical pets and beauty skills, and have the best grooming laboratories in Korea to form the best faculty members in Korea and Japan.

Animal Management Major

The Department of Animal Care is aimed at educating domestic specialty animal experts who have specialized knowledge and practical skills in various animal industry fields. Through the on-the-job training and fostering education programs, it is the best animal breeding, training and behavior correction and aquarist To be able to take charge of the role.
History
As a family of 40 years of history and tradition, many college students, alumni, and students / professors have a sense of unity and are not only educating students but also teaching them to work with enthusiasm.
1963. 01. 18 Taejon Business Univ.
1976. 12. 31 Changed the name to Daejeon Elementary School
1978 12. 28 Reorganized as Daejeon Unemployment College
1979. 03. 01 Established Daejeon Univ.
1997. 11. 18 Livestock Department changed its name to Animal Science Department
1998. 05. 01 Changed the name to Woosong Information College
2003. 03. 01 Environmental Coordination Integrated into Animal Science Division
2004. 03. 01 Reorganized into pet series (pet management major, pet beauty major)
2009. 03. 01 Reorganization of the pet society
2013. 03. 01 Reorganized as a pet series
2014. 03. 01 reorganized as a pet department
2017. 03. 01 Established Pet Medicine Medical Major
---
Career Pathway
Major In Pet Medical
Assistant Veterinarian
Veterinary Nurse
Specialized Veterinary Nurse
Pet Grooming Major
Dog Beautician
Professional Dog Beautician
Master Beautician
Animal Management Major

Animal breeding person
Dog training person
Ocean Aquarium

Animal Breeding Manager
Dog Kindergarten and Training Manager
Ocean Aquarium

Animal Breeding Officer
Head of kindergarten and training center for dogs
Director of pet, wild, marine animal care

Head of Animal Breeding facility
Dog kindergarten and training director
General Director of Pets, Wildlife and Marine Animals

Year
1~2
3~5
6~10
11~
---
Department Specialization
Basic direction of characterization of pet series
Background
As the industrial structure changes and the Gross Domestic Product (GDP) surpasses $ 20,000, human life is growing at a fast pace as the pet family is considered to be a member of the family along with the nuclear family, the aging population, It is expected to grow steadily.

We want to develop and run specialized programs to understand the characteristics of diversified pets, respect for life, and nurture professionals with intellectual and practical skills.
Basic direction
Cultivate talent to meet industry needs
Strengthening employment competitiveness through practical education
Specialized in pet care (pet industry) / animal care (animal breeding) Operational plan by area
Operate international program
Operate International Mobility Enhancement Program
Class connection with the Royal Grooming School in Japan and student training
Inviting pet advanced technology specialists and specializing in interdisciplinary fields
Operate creative humanity education program
Educate CS leadership program through school organization
Domestic and overseas service activities program

Operation of volunteer activity program to protect pets through club activities
Development of animal medicines for mentally retarded people through club activities

Operate work experience program

Running a practical work program at a beauty workplace using a weekend

It is a program that allows industry and WIN-WIN to be dispatched as a practical company dispatching program using a weekend with many practical opportunities.
Using the weekend to operate a cycle-zero program for second grade students in the pet apparel industry
One person per week, 10-15 weeks total turn-around work experience It was implemented in 2011, and is a good program for improving student skills and employment.

Collaboration program

Conduct educational training in cooperation with industry for the cultivation of a new field of animal industry

Establishment of educational quality control certification system

Establishment of an authentication system from demand companies for animal technology and nursing education programs

Pet Beauty and Pet Training Field: Establishment of a program to acquire the required pet beauty techniques required by large pet companies (Shinsegae Molly Shop / Lotte Mart / Animal and person)
Pet Nursing Field: Establishment of a program to acquire the nursing skills required by small animal hospitals
Experimental Animal Sector: Establishment of a program for acquiring the qualifications required by the Laboratory Animal Society
Animal Breeding: Establishment of a program for acquisition of skills required for large zoo / large marine aquarium / animal breeding

able to select a major in the first semester of the second semester as a program management scheme that distinguishes it from other departments of pet science.
Specialized training in animal care / pet beauty / pet healthcare
---
Employment after Graduation
Career path after graduation can be divided into three.
Of course in order for the students to advance into these three fields, we incorporate related curriculum into career map, in the order of basic→core→advanced education, depending on students', demand level of industries, and student level. We also encourage students to learn actual skills through after class and during breaks.
Pet Medical Major: Animal Hospital, Large Animal Medical Center, Pet Center
Pet Grooming Major : Pet Center: Pet Center and Animal Hospital Pet owner, pet beauty shop establishment
Animal management major : Zoo, animal training field, aquarium, pet center, pet training center, laboratory animal company and university hospital, Daedeok and Chungbuk Ochang Institute, animal officials (police pets, drug detect dogs)
---
Certificates
Basic direction of characterization of pet series
Animal Care Workers

In the veterinary clinic, the main step is to provide hospital support, non-veterinary services and non-veterinary services.

Pet hairdresser

As a person who specializes in managing pets' hair or decorating them beautifully, the value of their profession has been rising due to the shortage of human beauticians at present.

Animal manager

In order to prevent problems and social problems of pet families (beneficiaries) in breeding, pets are required to have a certain level of education and professional training in order to maintain healthy pets as well as solve all problems. It refers to the recipient.

Handler

Pets are professionals who manage and participate in various kinds of pets participating in competitions at a pet show. This is a high-income job in advanced countries.

Trainer

They train basic pet training, auditory assistance pets, visually handicapped pets, therapeutic pets, and pets for pets to be rescued.

Artificial insemination

A person who artificially corrects semen to a species bell for the genetic improvement of an animal

Experimental animal engineer

Those who have appropriate skills in breeding of experimental animals, animal experiments, and management of experimental animal facilities.

Livestock Industrial engineer

Basic knowledge about animal husbandry The qualification required to carry out complex function work based on knowledge or skill, and the national qualification required for employment as a zookeeper.
Other occupations
Pet breeder

A person who is able to deeply recognize the lineage system for a breed and maintain and develop the ability of the breed while maintaining the abilities of the breed.

Keeper

It is classified according to the kinds of animals that are normally raised. Depending on the purpose of breeding, it can be divided into ranchers and zoos, and it is observed and recorded continuously without any inconvenience and comfortable environment of animals. Above all, love and attention to animals are important occupations.

Breaker

An animal trainer trains animals for special purposes such as performance, life-saving, and blindness guidance, and builds training plans based on the traits and characteristics of the animals being trained. It is a profession that requires patience and perseverance.
Job field
Aqua-land, zoo farmer, trainer, feed company, livestock industry, laboratory animal industry, biotechnology industry, laboratory animal keeper of the university research institute, pet beautician, animal hospital, handler, breeder, pet training facility, pet shop establishment, Going to college and studying abroad, Customs Service pet detection center, Nonghyup, coronary bird company, Internet pet shopping mall establishment, animal drug companies, other pet related companies.