Sol International School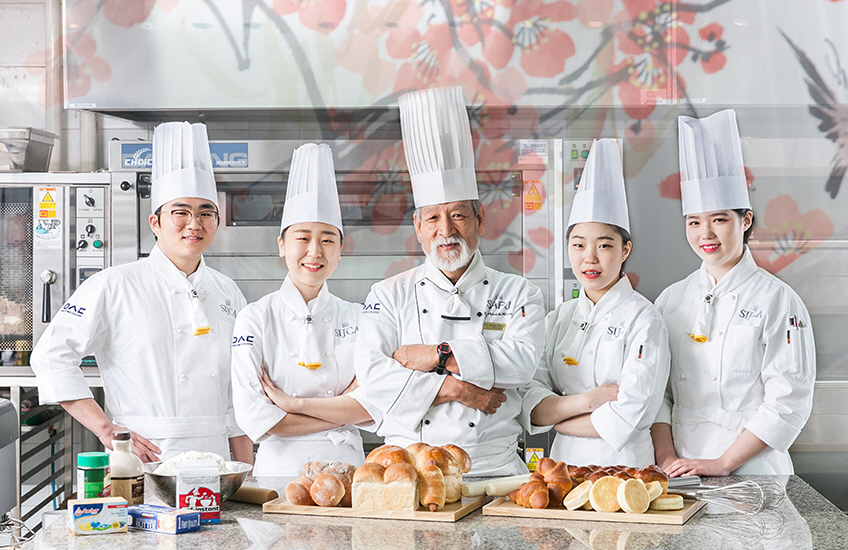 Vision & Objectives
Vision

To foster future leaders in the confectionary baking industry and the Japanese cooking industry, we will cultivate talented people who will serve as bridges for cooking education that connects Asia and the world.

Objectives

Develop professional talent who can enter the international stage through practical class-oriented teaching system, intensive language education, overseas internship and training, and global talent with communication ability to contribute to establishment of new dining culture
The Faculty of Japanese Cuisine Cooking, newly established in 2018, fostering global leaders who will play a pivotal role with international sense and ability to lead the future food service industry
Due to the rapid development of information communication network and traffic, the border has been lost in food culture and transformation is taking place. Food is the spiritual foundation of the nation and is an important keyword to understand the evolution of society. One small dessert also contains the culture of each country. The tastes and perspectives are different according to the social background and culture of each country, and the values are expressed in a delicate and diverse manner. Therefore, knowing food is to understand the culture and emotions of the country, and language is essential to learn the culture of the country.
The Faculty of Food and Nutrition at Woosong Information University provide a wide range of knowledge, sophisticated skills to practice in the field, utilizing the sensitivity of Japanese people. The trainings of Japanese faculty members who are qualified veteran in diverse Japanese restaurants are also provided. In addition, students have opportunities to learn from both Korean and Japanese professors; Korean professors provide in-depth Japanese grammar and vocabulary classes and Japanese professors provide systematic and intensive Japanese conversation classes. We are proud to have a variety of programs to cultivate Japanese food service experts with global competencies such as internships and training in Japan and Japanese language training.
Japanese Bakery & Pastry Major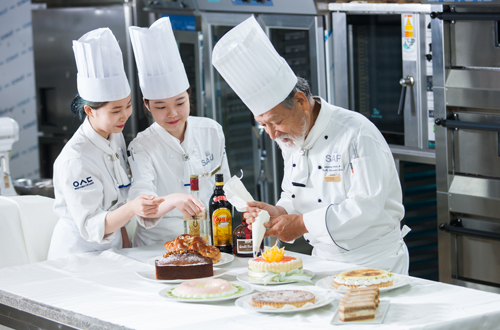 Professors from the headquarters of the famous hotels in Japan. Cultivating talented people to convey the educational culture of confectionery and baking
Professor of Japanese confectionery bakery conducts lessons in Japanese and runs short-term training course in Japan
Over 8 hours per week of Japanese intensive training
Alliance with Japanese confectionery baking school and internship and training at Japanese confectionery bakery
The Japanese confectionery industry, which has been recognized worldwide, is constantly benchmarking the Korean confectionery industry. In the Japanese confectionery baking major, the professors who majored in confectionery baking in Japan are carrying out the theory and practice of confectionery baking with Japanese culture in order to pass the expertise and knowledge of confectionery baking in Japan. As an Asian center to spread the educational culture of confectionery and bakery, we are training a confectionery baker with global competence through local internships and training.
Japanese Culinary Arts Major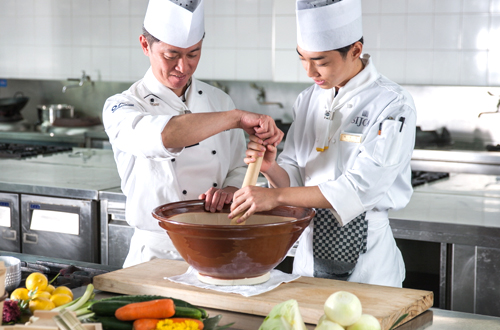 Domestic and international faculty with field experience and international sense. Short-term training of Japanese local vocational schools
Japanese professors with practical experience in class
8 hours per week Japanese intensive training
Acquisition of skills in the industrial field by practical education based on block class in Korea
Cooperation with the famous cooking school in Japan and internship and training in Japanese restaurant
Based on expert knowledge and skills, we cultivate professional cooks with the ability and attitude to creatively perform the responsibility as cooks. Students will be able to design,cook and produce Japanese food ingredients and menus with guidance from domestic and overseas faculty with field experience and an international perspective. As a creator of culture through the power of cooking, we aim to nurture manpower with professional skills through cooking education, which is a professional cook who combines technical education and practice to shape the future and beyond.
---
Career Pathway
| | | | | | | | |
| --- | --- | --- | --- | --- | --- | --- | --- |
| | | | | | | | |
| | Assistant | In charge of Side dish of production line | In charge of main menu of production line | Middle man between a cook and a chef | Manager of the entire cooking department | Chef | |
| | | | | | | | |
| Year | | 2 | 5 | 7 | 9 | 10 | 13 |
---
Department Specialization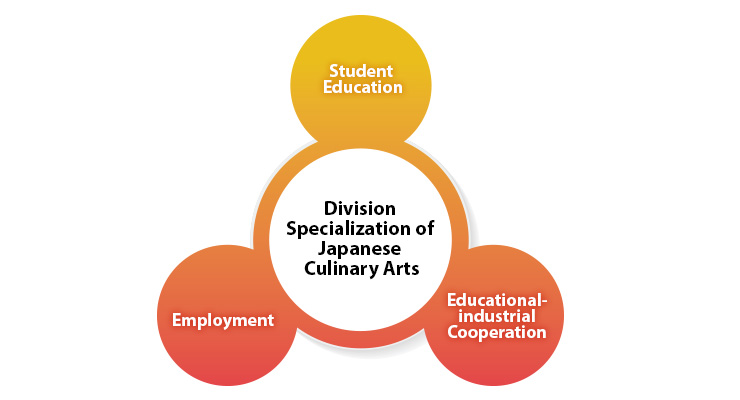 Student / Education
Block-type major course
On-site restaurant practice
On-the-job training program
Curriculum for certification
Japanese Intensive Program
Employment
Customized employment counseling training
Visits to domestic and overseas industry
Famous industry chef and patisserie lecturer
Create a work portfolio
4-year transfer program in Japan
Educational-industrial Cooperation
Japan internship dispatch
Educational linkage program with domestic and foreign industries
Internships in Japan, Training Programs
Expansion of overseas employment opportunities
---
Employment after Graduation
Japanese Bakery & Pastry Major
Hotel / Restaurant / Large bakery / Bakery and baker, Educational institute related to confectionery baking, the Research Institute related to confectionery, New product development, Professional journalist, Food materials distribution company, cake designer, sugar craftsman, chocolate craftsman, restaurant industry, transfer to 4-university, study abroad, internship and training abroad
Japanese Culinary Arts Major
Franchise company, food research institute, related consulting firm, catering company, establishment, hotel restaurant cook, franchise restaurant, food, and beverage research institute, culinary specialist and educational institution lecturer, transfer to
4-year university, overseas internship and training
---
Certificates
Domestic and overseas confectionery, baker, cake designer, baking master, sandwich specialist
---
Educational-industrial Cooperation