Division of Railway Transportation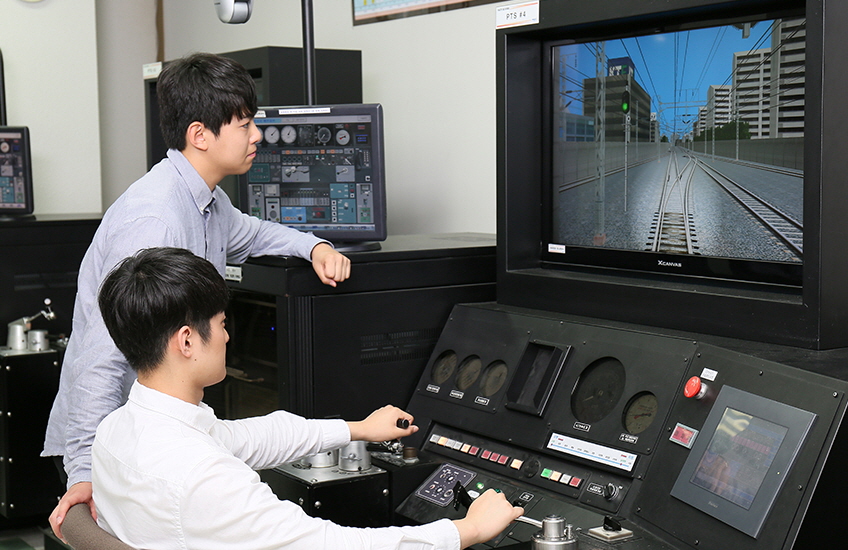 Vision & Objectives
Vision

Nurturing railway vehicle engineers

Objectives

Training intermediate technicians equipped with theories and skills in line with increasing demand for railway industry personnel
---
Railway, one of the most competitive transportation methods in the future!
The core area of the railway system is railway machinery, including railway cars. Following the Gyeongbu High Speed Railway, the Honam High Speed Railway being opened, various light railroads have begun to be planned, designed, constructed and operated by local community groups. There will be various opportunities such as the opening of the North-South railway and the TSR in the future.
Educational Objectives
We intend to foster core engineers who will be able to take part in the development of the railway industry with basic personality education, passion, affection, mission, and pride in the railway industry.
Career Introduction and Forecast
Korea Railroad Corporation, the city railway corporation of each local government, the government-run enterprise related to the railway, the large enterprise, the vehicle parts manufacturer, and the railway vehicle engineering company Daejeon Subway Line 1, 2, 3, and 4 are in the planning stage, and a number of railway technicians are required for local railway, subway extension, and inter-Korean railway connection plans.
Job prospects
Railway Opening of the era
Subway opening and expansion plans by region including Daejeon
Gradual expansion of high-speed railway
Expansion of domestic railway industry into overseas market

5% additional points for employment with a national technical certificate
High pay and stable job
Demand for railway technicians in Honam, Jeolla High Speed Train, Light Rail, Urban Railway and overseas market
---
Career Pathway
Staff, Associate
Manager
Deputy department head
Semi-machinery specialist
Machinery specialist
General supervisor
Year
3
10
15
20
25
---
Certificates
Railway Vehicle Industrial engineer
Overview of Certification and Duties
As the subway, urban railway, light rail, and high-speed railway are constantly being built, the demand for transportation in the railway area is rapidly increasing. However, there are not many experts to develop and operate railway vehicles. Educating people with basic knowledge and skills on railway vehicles is necessary to qualify them to design and operate optimal vehicles along with core technical personnel.
Understand the function and structure of railway vehicles, power units and other related equipment, design and manufacture economical yet effective and safe railway vehicles considering the structure, principles, and relationships between operations and devices, and carry out duties related to inspection and operation
Railway transport industrial engineer
Overview of Certification and Duties
As the demand for transportation in the railway sector increases, the passengers and cargoes must be safely transported by those who possess the knowledge of railway transportation and the special train operation function in order to secure the safety of train operation.
Based on the basic technical knowledge and skill of train operation, we carry out all tasks for the safe and accurate transportation of passengers and cargo using railway and subway. We carry out the tasks of driving the train, handling the response, switching work (changing the line in the train station) and various security devices according to train handling rules, transportation related procedures, passenger transportation procedures and cargo handling procedures.
Mechanical Design Industrial engineer
Overview of Certification and Duties
Recently, computer-aided design and production (CAD / CAM) systems have been extensively used for the purpose of improving productivity, reducing costs, improving quality, and improving reliability. However, there is still a shortage of personnel to design, modify, and supplement packages suitable for industrial products. A qualification has been established to nurture skilled manpower required for the mechanical design field.
Mainly using CAD system to create mechanical drawings, change drawings, arrange parts in accordance with the drawing format, and create cross-sectional display and dimension notes. In addition, computer graphics are used to design parts development, assembly drawing, cutting diagram, hydraulic circuit, electric circuit, piping circuit, etc., and management tasks are performed such as production management, quality control, and facility management.
Railroad maintenance technician
Overview of Certification and Duties
Maintaining the maintenance and inspection of the main engines, car bodies, and wheels of train