Railroad · Architecture · Fire Safety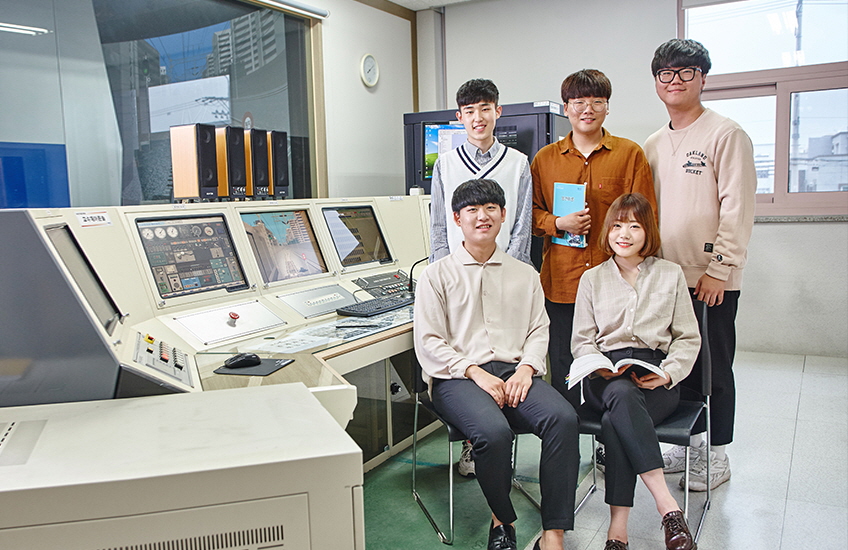 Vision & Objectives
Vision

Training engineers responsible for railway safety

Objectives

Training railway experts with railway driver's license and railway license
---
The pivotal role of railway traffic safety and accurate transportation Railroad engineer!
Since the opening of Korea Express Railway, The industry of railway transportation such as metropolitan city railway, light railway, and tram has been remarkably grown
The Department of Railway Engineer at Woosong College aims to train training railway engineers who are responsible for the safety of railway transportation in accordance with these changes. We train specialists who will be responsible for the operation of the railway operating organizations.
In the past, railway engineers trained themselves at each operating organization. However, since 2006, they have passed the physical and aptitude tests under the Railway Safety Act, completed training at training and training institutions, It has been changed so that you can acquire a driver's license to drive a railway vehicle.
As a result, our university's railway and transportation department (railway engineer major) is the first in Korea to train railway engineers to acquire railway driver's licenses in connection with the Woosong Railroad Academy.
Educational Objectives
To train railroad safety trainers on their shoulders, train accurate judgment and emergency measures so that they can fulfill their role as trainers, and train them to be the right railway people with the sense of duty and pride to protect their lives and property.
Career Introduction and Forecast
Train trainers
Korea Railroad Corporation, National City Railway Corporation, private railway operator, private railway operator
---
Career Pathway
Staff, Associate
Manager
Deputy department head
Head of department
Team leader, Chief
Chief director
Year
5
10
15
20
25
---
Career Paths after Graduation
Train the locomotive engineers responsible for railroad traffic safety Train railway experts with railway driver's license
After completing 5-month education at Woosong Djet Railroad Academy, Seoul Metro, KORAIL, and Manpower Development Institute, and having obtained a license for a type 2 electric engineer, You can work as a locomotive engineer in railway companies ,such as, Seoul Metro, other Railways Busan, Incheon, Daegu, Gwangju, Daejeon.
Future direction of railway development
Starting with the connection of the North-South railway, it will be connected with the Trans-China Railway (TCR), Trans-Mongolia Railway (TMGR) and Trans-Manchu Railway (TMP). Now it is time to establish a major identity and train the responsible railway person
---
Certificates
Locomotive engineer's License for Electric Vehicle (Type2)
Railway transport industrial engineer
Railroad Traffic Safety Manager
Logistics manager, distribution manager
Word processor, computer literacy, IT cerificate, etc.
Railway transport industrial engineer
Overview of Certification and Duties
As demand for transportation in the railway sector increases, the passengers and cargoes must be safely transported by those who possess the knowledge of railway transportation and the special train operation function in order to secure the safety of train operation, Eligibility for
Based on the basic technical knowledge and skill of train operation, we carry out all tasks for the safe and accurate transportation of passengers and cargo using railway and subway on time. To do this, we carry out the tasks of driving the train, handling the cheering response, switching work (changing the line in the train station) and various security devices according to train handling rules, transportation related procedures, passenger transportation procedures and cargo handling procedures.
Driver's License for Type 2 Electric Vehicle
Overview of Certification and Duties
In this course, you will learn about the driving methods of trains and the five necessary subjects for train licenses (railway-related laws, urban railway system, structure and function of electric vehicles, driving theory, Emergency measures, etc.).
After studying a subject related to a train, it is recruited to a railroad transportation agency and then trains a trainee. The role of the railway engineer is to check the operating time, familiarize with the operation of the train, check the fuel condition of the train, the carriage connection, and the running and control system as a driver of the train. It carries many people and property, and is responsible for safety as the last safeguard of security.