Division of Design & Media Contents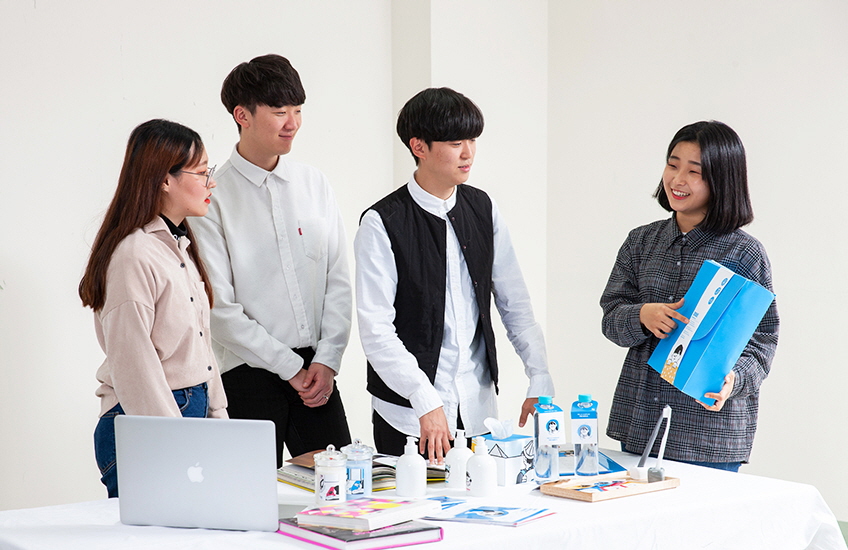 Vision & Objectives
Vision

Develop high-quality designers to enhance the value of goods

Objectives

Cultivating elite designers leading fashion with creative sense
---
Career Pathway
Visual designer / editorial designer / advertising designer
Design Manager
Design Team Leader
Director
Year
1
2
3
5
10
---
Major Specialization
Major Specialization
We have specialized education methods and various programs to cultivate elite designers who can be employed anywhere with creative sense and practical skills.
Customized Practical Training for Industry
Jobs and Jobs in Industry

As a two-year education major of employment priority, it does not include any comprehensive subjects that are not used in industries such as flat paneling, stereoscopic molding, etc., and is performed by industry as detailed job performed by industry such as "layout technique" and "graphic element: decoration and background" As well as in the order of their work.

Select and focus only on the subjects you need

Go to courses that do not need this. Selective intensive training is provided to enable practical professional training for only 2 years in the required courses.

Customized practical training desired by industry

In order to carry out internships prior to dispatching internship, we carry out various industry-academy-related education in order to improve practical skills required by industry such as customized internship practical training by dispatching company staff and customized major education operation premised on specific company employment .

Practical Project Class

Almost all classes, except some, are conducted in project-based hands-on classes to develop work methods and methods that are not practical.
---
Certificates
Industrial Engineer Visual Communication Design, Craftsman Web Design, Industrial Engineer Colorist, Industrial Engineer Product Design
---
Employment after Graduation
Editorial designer, an advertising designer, a computer graphic designer, a brand (packaging) designer, a typographic designer, a character designer, or a visual (graphic) designer There are many companies that are specialized in design, such as design company, general corporate press office and design room, package professional design company, publishing company such as monthly magazine / children storybook / novel book, advertising agency, newspaper editorial design room, print production company
Job field
(Corporate) public relations office / design room / marketing room, visual (graphic) design company, advertising agency, package (brand) design specializing company, magazine / publishing company, newspaper company, print production company, fancy company, event company, Other advertising · Public relations · Editing design related companies