Health Care · Education · Welfare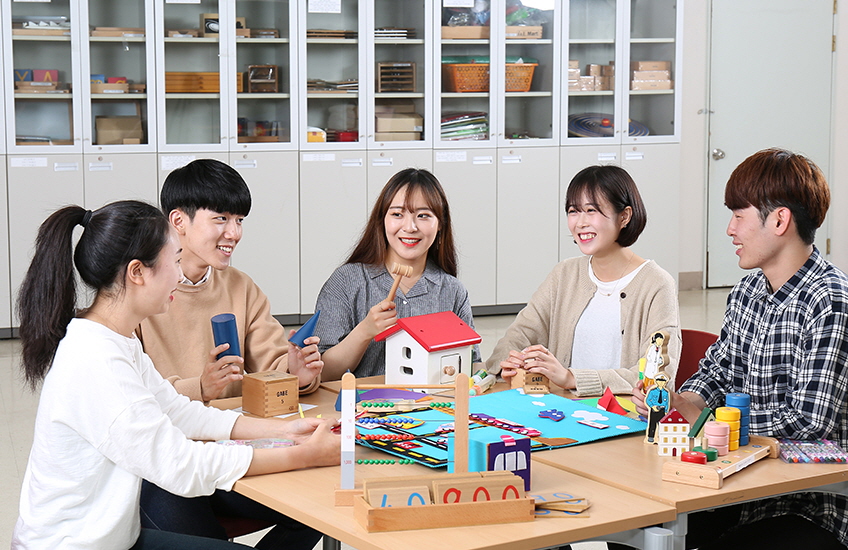 Department of Early Childhood Education
Office: Social Welfare Hall(W10) 511
Tel: +82-42-629-6158
Hompage
FaceBook
Contact Us
Vision & Objectives
Vision

Educate early childhood educators to educate future talents
Early childhood education department responsible for future child education
To learn the knowledge of developmental characteristics and effective teaching and learning methods so that children can grow up in the whole person, we conduct field observation and practice for the education that is connected with the field. Recently, as the employment rate of married women increases due to social and economic changes and the welfare society realizes the importance of education for infants and toddlers, the field of early childhood education will become a more highly specialized field. The Department of Early Childhood Education aims to educate early childhood teachers who are responsible for the education and child care of children aged 0 ~ 6 years old.
History
Year
History
2019~
Change to 3-year Early Childhood Education Section
1981~2018. 2
More than 4200 graduates
2018. 2
35 students 110 graduates
1981~2017.2
More than 3900 graduates
2009. 9
Opened the Woosong school kindergarten
1998. 3
Opened a nursery school in Donga
1995
Change of school name to School of Early Childhood Education, Woosong Information University
Woosong School Opened Woosong Kindergarten
1983
Opened Donga Kindergarten in Daejeon Univ.
1982
Daejeon Unemployment Junior College Establishes Early Childhood Education Department
Goals of Early Childhood Education
Develop professional early childhood teachers with personality, integrity and originality
Educational policy of early childhood education department
First, to develop sound personality, educational mission and ethical awareness required of teachers
Second, the development of professional knowledge and education skills through educational theory and practice
Third, to improve the practical skills such as curriculum instruction,
Fourth, cultivation of understanding and teaching ability related to major field
Fifth, developing creative thinking and information utilization ability to cope with educational change
Differentiated characteristics
Excellent faculty
Faculty of Early Childhood Education and Field Experience
High employment rate - Improving field adaptability with practical training
The latest laboratory and equipment
Specialized early childhood education institution: Woosong Kindergarten
Alumni recognized in early childhood education: supervisor in charge of early childhood education, public kindergarten teacher, public kindergarten teacher, director of public / private corporation / private nursery school, teacher of early childhood teaching material, after-school teacher
---
Career Pathway
Kindergarten
Kindergarten Teacher Class 2
Kindergarten Teacher Class 1
Vice President of Kindergarten
Head of Kindergarten
Nursery school
Childcare Teacher Class 2
Childcare Teacher Class 1
Head of Childcare Institute
Year
3
6
9
---
Department Specialization
Characterization of Early Childhood Education
Establish educational advanced infrastructure
Strengthen capacity of pre-service teachers to improve employment rate
Strengthening personality education
---
Employment after Graduation
Nursery schools (public, corporate, workplace, private, home childcare facilities) Childcare teachers and facilities
Welfare facility childcare person (child welfare facility, community welfare center)
Infant education related companies
Transfer to a four-year university

---
Certificates
National Certificate
Kindergarten second grade teacher
Childcare teacher level 2
Department Related Certificate
Ukulele instructor qualification
Montessori teacher qualification
Korean traditional music teacher qualification
Origami lecturer balloon art teacher qualification
Recreation leader qualification / donghwaji etc.