Hotel · Catering · Cooking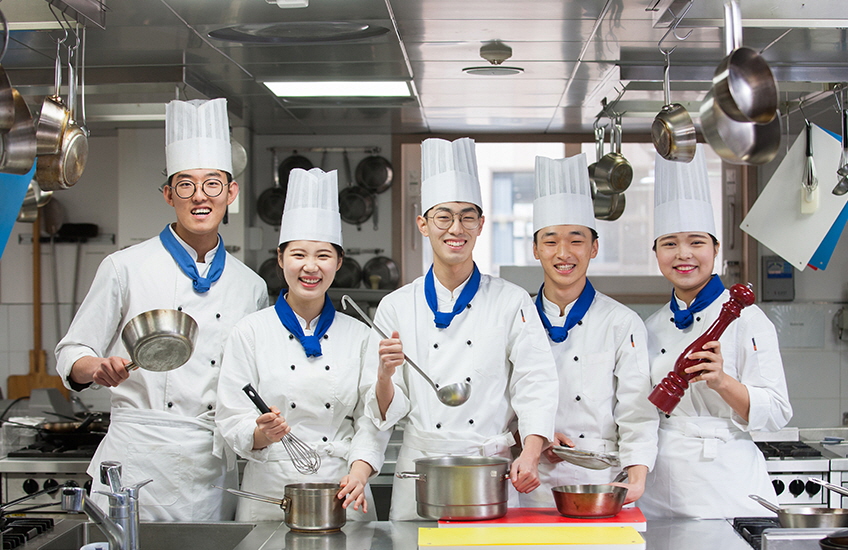 Vision & Objectives
Vision

Cultivated 21st Century Military Nutrition Officer

Objectives

Train nursing care specialists with combined cooking ability and hygienic management skills
Educational Objectives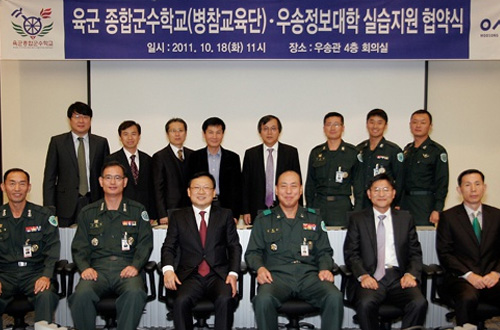 Train nursing care specialists with combined cooking ability and hygienic management skills.
Students will learn cooking and military expertise, and be trained as nursing officers who can provide meals to improve the combat strength of the military through systematic care management and food hygiene management.
Purpose of establishment
It is Korea's first cooking related specialization course opened in 2012. It is a military professional education department designated by the Military Headquarter.
In order to maintain and improve combat strength based on the strong body of the soldiers in the military, proper nutrition management is the most important issue for the soldiers. However, until now, the nurses who have not majored in cooking have been selected for the role.
In order to become the best advanced military in the future, it is essential to arrange specialists who have received professional and systematic cooking and nutrition education.
Established of the Food and Nutrition Department in accordance with the trends of the times to develop a competent and professional team. To provide food that can improve nutrition, cooking and military expertise of food and improve military combat strength through systematic nutrition and food hygiene management, we want to contribute to the national security and development by nurturing the nursing officer in the military.
Department Characteristics
This department is aiming to become the best military specialty department with practical system and facilities, specialized block training course, and foreign faculty to train the best military and nursing care specialist who performs military combat physical ability and hygiene management work.
The department aims to educate all students to acquire qualifications and to serve as a non-commissioned nurse by educating students about nutrition and hygiene and running various cooking certification programs.
Students in this department receive a military scholarship. Firstly enter male and female dormitories, and train as military officers with the right personality and courtesy.
---
Career Pathway
| | | | | |
| --- | --- | --- | --- | --- |
| | | | | |
| | Sergeant Officer | Chief of Staff Supervisory Service | Class executives | |
| | | | | |
| Year | | 2 | 10 | 20 |
---
Department Specialization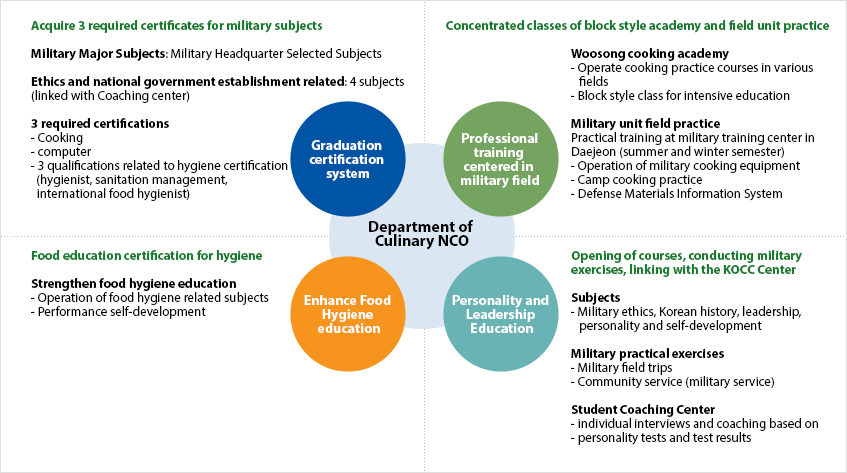 ---
Employment after Graduation
NCO (8.9 grade officials), hotel and specialty restaurant cooks, catering companies, group meal companies
Food and beverage companies, cooking institutes, educational institution lecturers (lifelong education center, cultural center, women's welfare center, corporate cooking class, etc.)
Transfer to a four-year university and study abroad (overseas internship), other cooking-related industries, food companies
If the students, who graduated from the Department of Cooking and Nursing, apply to the NCO, the duty of military service will be resolved.
If you serve a long-term service after 4 years of obligatory service, you will receive benefits such as free military service and apartment, special sale of Military Mutual Aid Association, full payment of high school tuition for long-term service nurse's child, and scholarship for university entrance.
In the case of the retirement, the military service and cooking expertise is recognized, and the employment competitiveness is relatively improved. As a result, it is easy to work in various cooking fields and food businesses. Employment is available by group meal companies, food / beverage companies, cooking laboratories, other cooking related industries, and food companies.
Certificates
Craftsman Cooking (Korean, Western, Chinese, Japanese, Blowfish) / International Food Sanitation, Hygienist / Sanitation management, Computer skills / ITQ (Hangul, Excel, PPT)